Flooring Installation in Fairfax, VA
When you choose tile for your flooring installation project, it is vital to consider all of your options. The material, style, and color you select will drastically impact the appearance of your room's décor. In addition, you should also take the location into account. Some floor options are much more suitable for certain rooms in your home, including bathrooms, basements, and kitchens.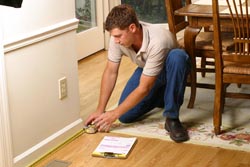 Customers who are ready to select tile are wise to consider the application method for each flooring material. In most cases, the length of time your tile floor lasts is directly related to the way it is installed. Because of this, it is vital that you work with a company that is dedicated to ensuring its floor installers are experienced, knowledgeable, and meticulous.
There are a few crucial steps to make sure the floor is installed properly. First, your contractor will evaluate your substrate. It is important that substrates are clean, dry, and level for a successful installation. A grid of chalk lines is snapped to ensure that the completed floor has a balanced look. Finally, your contractor should help you select adhesives that are designed to work with the substrate in your home.


Installation Considerations for Different Floor Options
More tile floor options are installed in a similar fashion. However, porcelain, non-porcelain, and natural stone tile each require a few special considerations. Natural stone should have an underlayment that is specially designed for that type of tiling.
Some feel porcelain is more difficult to install than ceramic tile, but in reality there are not many differences. With porcelain's lower water absorption rate, it makes a great choice for use in bathrooms. It is also better for use in heavier traffic areas because it is denser than ceramic tile. Because it is less dense, ceramic tile is easier for your contractor to cut. Additionally, ceramic tile floor options are almost always more affordable than porcelain


Practical Concerns for Flooring
Pay attention to the tile flooring's Porcelain Enamel Institute (PEI) rating for a floor that is easy to maintain. These ratings help you determine a tile's durability both quickly and easily. A more resilient tile is an excellent choice for homeowners with children and pets. Count on our knowledgeable staff to help you discover a flooring option that is right for your home!



Contact us for all of your flooring needs. We serve customers in Fairfax Station, Falls Church, Centreville, Gainesville, and Manassas.