Update Your Home with Luxury Vinyl Flooring in Fairfax, VA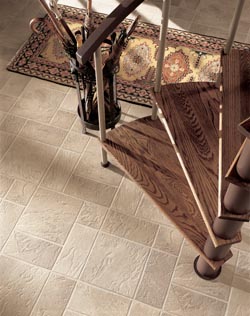 Give your home a beautiful new look by choosing new luxury vinyl flooring in Fairfax, VA. At Flooring America Fairfax, we offer a large inventory of elegant and robust vinyl flooring options in a variety of styles and patterns to meet your needs.
Luxury vinyl is designed to replicate the appearance of other flooring materials allowing you to add the majestic look of wood or the smooth feeling of ceramic tile. When combined with the unmatched resilience of vinyl, you have a flooring solution that works perfectly in nearly any room of your house.
Designed to Last
Not only is luxury vinyl available in a nearly limitless number of styles, but it also provides robustness that is unmatched by other flooring options. Luxury vinyl flooring tiles will hold up to the wear and tear of daily life with ease. This lets you confidently install vinyl tiles in your kitchen, knowing that spills will not have a significant impact and that they will wipe away with ease.
With luxury vinyl planks, you can add the timeless look of wood to moisture-rich rooms like your bathroom or basement. This is typically not advised with natural hardwoods because the moisture can cause the flooring to warp. However, with the moisture resistance of vinyl, your surface will stay smooth while also protecting against mold and mildew.
Additionally, a luxury vinyl flooring installation is typically softer than the surfaces that it is mimicking, making it more comfortable underfoot. It is also very economical with vinyl tiles or planks being easier to source than the high-end natural materials used in other surfaces. To learn more about the long term advantages that luxury vinyl has to offer for your home, or to explore our vast collection, visit our showroom today. Our team is always happy to help you find the perfect flooring solutions for your next home improvement project.
Professional Installation
After choosing the new floors for your home, trust our team to take care of your installation. Our team of professional installers has the experience and skills needed to properly lay-out your new luxury vinyl flooring, ensuring it looks beautiful in your rooms. Typically, we can even install the vinyl flooring directly over your old surfaces, meaning we do not have to pull up the old floors. This helps to make the installation go even quicker so that you can enjoy your beautiful new surfaces right away.

Contact us to learn more about the luxury vinyl options we carry in our store. We proudly serve Fairfax, VA, and the surrounding areas.